Welcome to Juneau Sportfishing
Come join us on an Alaskan fishing adventure out in the waters of Auke Bay in Juneau!
Juneau Sportfishing has been in operation since 1982, offering both salmon fishing and bottom fishing tours in some of the most productive waters in the world!  An added bonus is the chance to see whales, sea lions, eagles and more! Our fleet is comprised of five 30-ft Bayliners, each with a covered cabin, a private bathroom, and seating inside with a table for refreshments. A maximum of 6 people per boat as per US Coast Guard regulations. All fishing gear is provided, but remember to bring your own rain gear!
Price $250.00 + tax for a 5 hour excursion
Min Age: 4 years
Salmon Sportfishing Adventure
Come troll the waters of Southeast Alaska for any of the 4 main species of Pacific Salmon found near Juneau! Four lines are frequently used to avoid tangles and maximize efficiency. Fishermen take turns playing the lines when a fish hit!
Peak Seasonal months for salmon:
King Salmon (Chinook): year-round availability, but peak in June – July

Silver Salmon (Coho): peak August- September

Pink Salmon (Humpies): peak July – September

Chum Salmon (Dog): peak July
Price $250.00 + tax for a 5 hour excursion
Min Age: 4 years
Fins & Grins Bottom Fishing
A great tour for all ages and ability levels! Bottom fishing is much more hands on – each fisherman handles his own rod and jigs for bottom fish at his own speed. We commonly catch flounder, rockfish, and sculpin. Halibut tours are available upon request. There are no peak seasons for bottom fish and all species are present in Southeast Alaskan waters year round.
"We had a great time fishing with Captain Bob and Ethan. They were knowledgeable, friendly, sincere, and were all about helping us fish. We caught a bunch of rockfish, a couple flounders and a Coho Salmon!"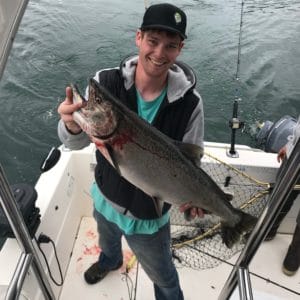 "My son and I recently went out with Capt Mike and Ethan on a 1/2 day fishing excursion. They were great! We wasted no time getting to their favorite fishing locations and pulled in some Dolly Varden and one of the guys caught a 33″ King. Great time had by all. Thank you for the memories and we will be back!"
"When I say this was the best fishing trip EVER that is not coming from some landlubber since my husband and I have owned our own boats for over 35 years. [Our captain] was friendly, funny, accommodating and more importantly got us in to fish! My husband caught 7 and I caught 3 and the wildlife we saw up close and personal was amazing. Whales, eagles etc. I highly recommend them!"
Find Out More About Our Excursions